An economist by training, I grew up in the U.S. but emigrated to South Africa in the mid-1980s where I became deeply involved in the development and implementation of post-apartheid economic and urbanization policy. During the 90s and 2000s, I was a consultant to a variety of entities, including African and European governments and the United Nations. I travelled extensively in Africa and Asia during this period, developing a keen understanding of the relationship between political and economic dynamics in various societies. I've also published research and commentary in a number of prestigious international journals, including The Journal of Microfinance, Small Enterprise Development and Environment and Urbanization.
In 2008, I returned to the U.S. to work for a large Atlanta-based nonprofit organization as their Director of International Programs. Using my economist background, I developed a focus on techniques to assess organizational sustainability and effectiveness.
I joined Banyan Hill Publishing (then called Sovereign Society) in 2013 as a part-time editor. Applying my economic training and extensive international experience to my writings, I quickly became a popular voice in my own right.
I am now the editor of The Bauman Letter, a monthly publication devoted to helping you earn endless income with bold thinking. My readership is the largest in the Banyan Hill group, with nearly 200,000 subscribers.
I've also included my writing to include Profit Switch, a weekly stock trading service. It is a trading system I've developed with the assistance of top Wall Street experts in the field. As an economist rather than a conventional stock analyst, I am able to bring a wider perspective to market developments and provide readers with unique insights into things that bring them profits.
Archive of articles on Banyan Hill Publishing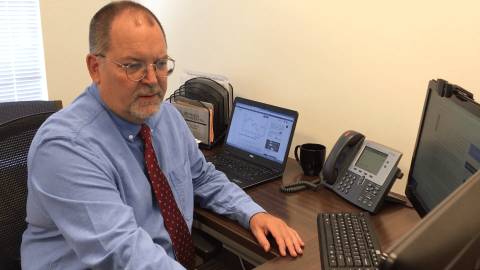 My route to becoming a financial writer has been quite unusual. Unlike most of my colleagues, I've never worked in commercial finance or as an investment specialist. Instead, I'm an economist by training, and I worked for many years managing housing finance systems for nonprofit developers in the biggest cities of the developing world … in Africa, Asia and Latin America.
Despite my background in the nonprofit sector, I've always had a keen interest in personal liberty and the protection of individual rights from the threat of big government — and also from big business. During my years working in the developing world, I saw firsthand how people's lives and prosperity were held back from the powers-that-be that ruled over them. That's a big part of what prompted me to join Banyan Hill Publishing.
Because of my background in economics — particularly my understanding of market dynamics — I quickly moved from writing about asset protection and offshore living to writing about investment. And that's why I take a "big picture"-type approach. For The Bauman Letter, I developed the BOLD system, an acronym for Big Vision, Open for Takeoff, Logical Move and Distinct Catalyst, to uncover opportunities. My standalone service — Profit Switch — uses a three-step strategy that reveals the "where, what and when" of investing.
People who read my newsletters often comment on how different they are than most financial newsletters. The most common observation is that I tend to be very direct, and that I try to ensure that the advice I give to my readers is advice I believe in personally. It's fair to say that I'm happiest now that I've ever been in my life, because I really love writing for a living. I also love the fact that I can act on my underlying values: respect for the individual, the primacy of personal liberty and a fair balance between personal interests and the interests of the broader society in which we live. It keeps my mind busy, and it keeps me happy.
Friday morning was a sight to behold. Our biggest snowfall this winter left a glistening white landscape everywhere you looked around my house … not to mention three very excited kids getting an extended weekend after schools closed. But the beauty on the surface...
read more
I am new to your letter, and was encouraged to learn there are those with a sense of commitment to those who are not "privileged." There is so much need in our world to know how to develop a stable financial life. Thank you!
— Mary D.
A breath of fresh air! Your newsletter on the economic benefits of universal healthcare was right on the money as far as I am concerned.
— Judy G.
I just started with this membership and after reading your first email, I am touched that someone like YOU still exist on this earth who is interested and has passion in helping others like me to better their lives.
— Emma R.